OPPO Reno2 has made its debut in India on August 28th, followed by the official launch of Reno2 Z and Reno2 in India on September 6th and 20th respectively. Not only the Reno2 hardware performance has been optimized but it also brought more surprises in software with ColorOS. Discover all the highlights of ColorOS 6 on Reno2 in 3 minutes!
Soloop Video Editor
We all love taking videos of our lives and capture each special moment, but the intricacy of editing always hinders us from sharing the footage. Soloop video editor is hereby to provide a user-friendly solution. Soloop video editor has got it covered from editing to sharing it on social media like Facebook and YouTube, etc. It categorizes videos intelligently, personalizes the videos with sleek templates and provides various filters and music for users to choose from – Altogether Soloop enables users to produce high-quality videos with just one tap.
Dual Wi-Fi
We can now enjoy a faster Internet speed with OPPO's innovative Dual Wi-Fi technology. Allowing our phones to connect to two bands of Wi-Fi simultaneously (2.4G Hz+5G Hz), Dual Wi-Fi boots the internet speed, so that we can say 'farewell' to buffering games and videos for good!
Ultra Steady Video
Reno2 has been equipped with our Ultra Steady technology. With the combination of 5-axis sensor-shift image stabilization, Optical Image Stabilization (OSI), Electronic Image Stabilization (EIS), Multi-Source/Sensor Information Fusion (MSIF) technology and Intelligent Scene Analysis System, Reno2 substantially improves the motion sensitivity of the device, creating ultra-smooth videos.
Ultra Dark Mode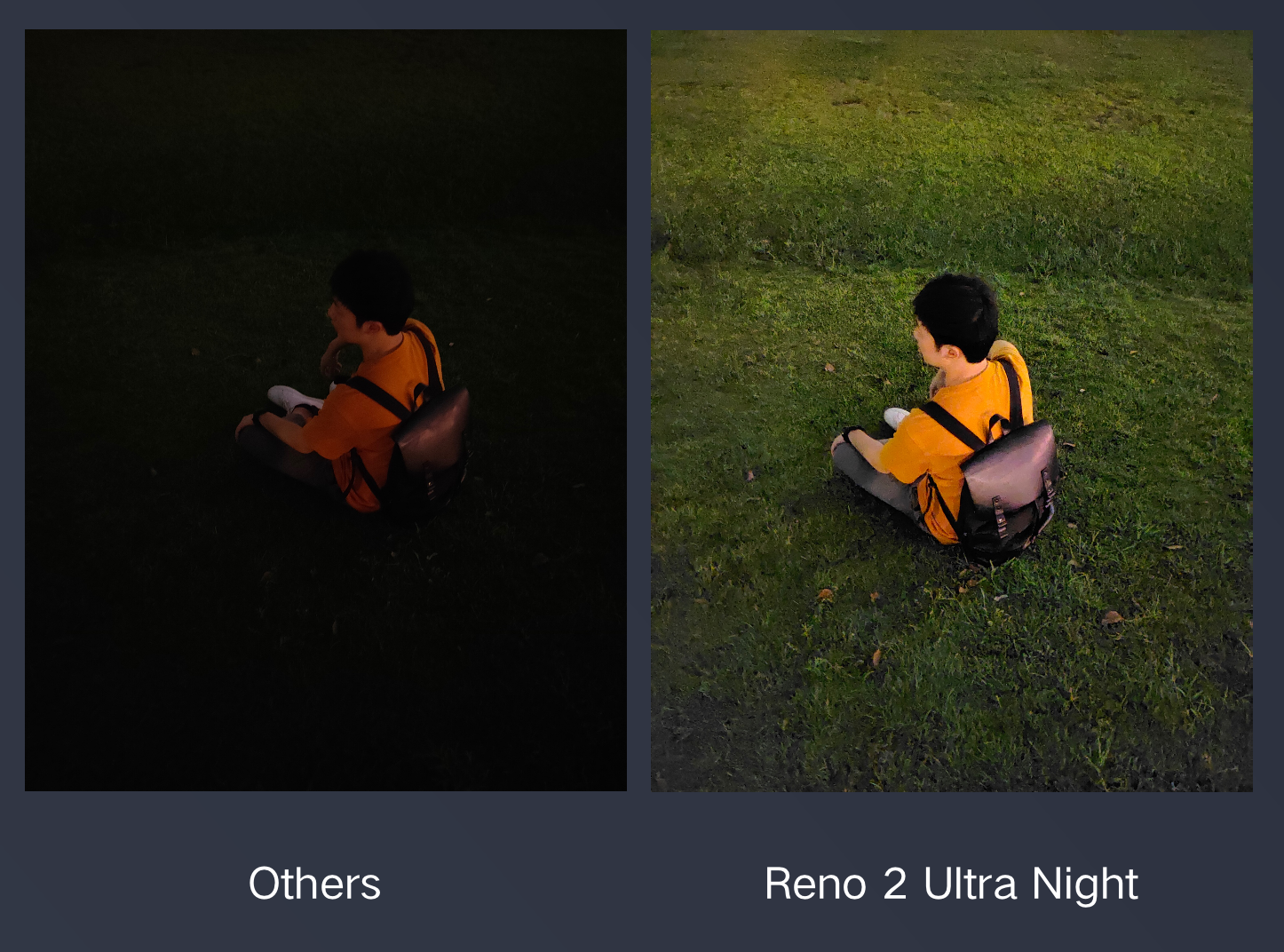 When the Night Mode of OPPO Reno2 is on, the ColorOS system will automatically activate the Ultra Dark Mode if the surrounding light level is lower than 1lux. Incorporated with our state-of-the-art hardware and the Ultra Dark Mode Algorithm, OPPO Reno2 enables us to capture the magic of the night at a stunning new level of clarity, even when the scenery is barely visible to our naked eyes.
Privacy Protection
The ColorOS system values the privacy of personal data. Personal Information Protection enables the user to use third-party apps without providing authenticated personal information (such as call history and contacts). App Lock encrypts the selected apps and hides the app icons from the home screen to protect users' data privacy and to prevent other people from checking the contents of these apps. Payment Protection automatically examines the payment environment to ensure online payment safety.